Social Media – A Silver Lining for The Healthcare Industry


Social media has evolved over the years. It's not just about personal tweets, status updates, check-ins or video sharing anymore. Social media is about everything from communication to collaboration and about reviews & opinions along with serving other purposes like Branding, Entertainment and Media Sharing.
Businesses today use social media as a tool to grow and connect with potential or existing customers. Sites like Facebook, Twitter, LinkedIn, and Instagram are turning into an economical and productive platform for lead generation. Healthcare is the only sector which is in the inception phase of using social media for lead generation when compared to other businesses.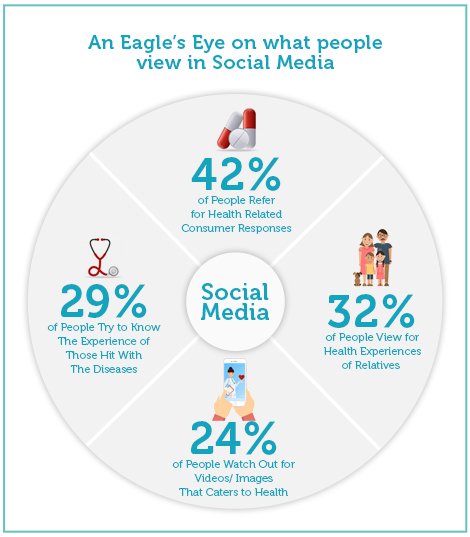 Digital Channels surpass Traditional Marketing for Healthcare:
Radio or Television is so passe`, people are active on social media sites more than ever making it the perfect choice for target marketing.Apps like 'Practo' are widely used by Fitness Centres, Healthcare Centres, Hospitals and Speciality Clinics who list themselves over it.With gym, salon, spa and other services listed on the app, the people who use it for such services hover over Healthcare services resulting in Healthcare leads for the service providers.
Fitbit, a fitness app used social media to get around 75K comments, likes and clicks through Instagram and Facebook. It engages the audience by posting questions related to Healthcare. Its social presence is generating more Healthcare leads for the company.
Carilion Clinic, a US based Healthcare center has been promoting early breast cancer detection with its Instagram campaign #YESMAMM since many years. The campaign got them 4,605 followers on Twitter.
Anne Arundel's Medical Center started a facebook campaign "Stachie" to raise awareness for Men's Health which helped their website gain more traffic. Apart from this, blogs and podcasts also further increased their website traffic leading to more Healthcare sales leads.

Why is Social Media your go-to tool for generating Healthcare leads?

90%

of the people in their early 20's rely on the medical information shared over social media.

19%

of smartphone users have apps related to exercise, diet, and weight on their phones.

54%

of people look for virtual advice for their health problems.

41%

people rely on social media while contemplating over the decisions regarding their medical treatment.
There is an

119%

increase in the diversion of YouTube traffic to hospital sites.

27%

of people count on social media for sharing their health experiences.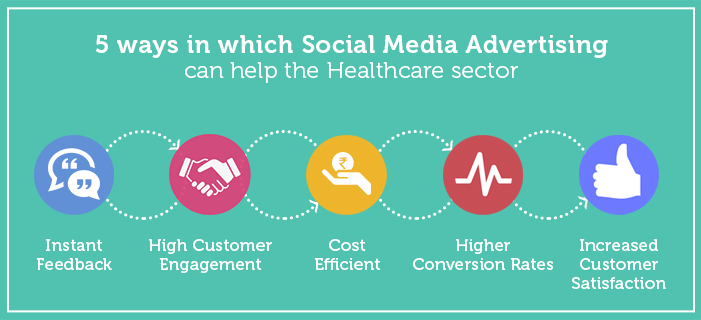 5 ways in which Social Media Advertising can help the Healthcare sector:
Cost Efficient & Strategic Business Tool – Social media has emerged as the latest healthcare marketing solution for Healthcare lead generation. The biggies of Healthcare sector are paying a huge sum to advertise over social media.
Alternatively, Target marketing using advanced targeting systems like Facebook and Google Adwords can prove to be an economical way of generating Healthcare leads.
High Customer Engagement – Most of the people today share their feedback over social media. Their decisions, opinions and trust factor are based on the facts posted online about the hospital or Healthcare center.
Healthcare centers have noticed increased healthcare sales leads with a positive feedback about their service over Facebook. As we all know 'time is money' in today's fast paced life so the quick reply to customer queries keeps them engaged over social media.
Instant Feedback helps both the Customer & Organization – Social media channels like Facebook allows your business to get real-time data about conversion rates, leads received and so on instantly. It helps the customer to get information relating to the hospital or service in a jiffy.
A majority of people use social media channels like Youtube, Facebook, and Twitter for health-related information before visiting a hospital. For e.g. Mr.X may go to a Facebook page of a hospital to read reviews and user ratings of the center.
Higher Conversion Rates – Like other Industries today, Healthcare Industry is also looking for outcome based measurement. Social media enables quality based Healthcare leads for the businesses with its target marketing approach. For the customers, it's a reliable and affordable care plus value based purchase with a quick feedback to their queries.

Increased Customer Satisfaction  – Using Social media, the Healthcare sector can connect to people almost instantly. Through Twitter, Facebook or Instagram they can immediately reply to the queries, comments or likes posted by the users. This real-time engagement with customers leads to positive feelings towards the company.
A right step of the Healthcare Industries with target marketing by improving their presence over social media can grab the attention of their prospects. With the number of social media users growing to 143 million by April 2015, it is the right medium for the Healthcare sector to target their potential customers. In the wake of cut-throat competition, social media is a brilliant way in which the Healthcare sector can connect to the new and existing audience and build goodwill in the market.
Social media is the 21st-century Healthcare marketing solution. As a popular proverb says, "Don't find customers for your products, find products for your customers", social media helps in knowing what the customers really want and helps businesses build services around it thereby creating a winning strategy.